MEMBERS, VISITORS and GUESTS
Please also keep an eye on our Facebook page for the latest information.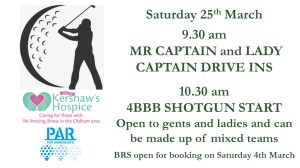 Saturday 25th March – Mr Captain and Lady Captain Drive Ins
Place your bets on the "Spot the Drive" grid. £1.
BRS entry opens Saturday 4th March
Saturday 25th March
The draw for the shotgun start
Both Captains drive off at 9.30
4BBB competition shotgun start at 10.30 open to gents and ladies
Prizes for winners, runners up, longest drive, nearest the pin and nearest the pin in 2
Sunday 26th March – additional Lady Captain's Drive In
Lady Captain drives off at 12 noon
A 9-hole competition for ladies with and without handicaps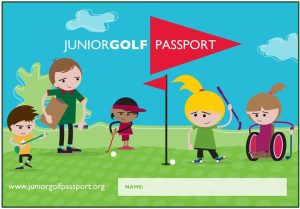 Juniors
Every Saturday from April to October
Times vary between 12 noon and 2pm depending on the men's competition in the morning. Newcomers need to register with Sheila on 07950 561238.

New to Golf session (to be confirmed)
Sunday/s in April (to be confirmed)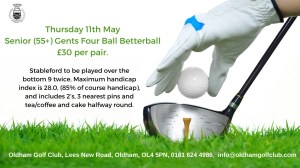 Senior (55+) Gents Open
Thursday 11th May
£30 per pair

New to Golf session (to be confirmed)
Sunday/s in May (to be confirmed)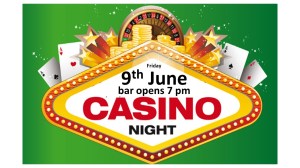 Casino Night
Other details to follow

New to Golf session (to be confirmed)
Sunday/s in June (to be confirmed)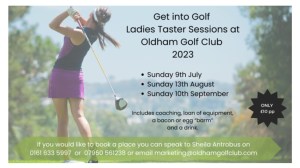 Ladies Taster Day
In 2023 our taster days cost £10 and includes coaching, loan of equipment, a bacon and egg "barm" and a drink.  If you would like to book a place you can speak to Sheila Antrobus on 0161 633 5997 or 07950 561238 or email marketing@oldhamgolfclub.com
Quiz Night
Other details to follow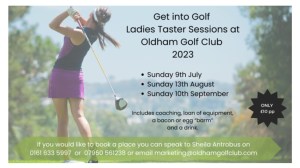 Ladies Taster Day
In 2023 our taster days cost £10 and includes coaching, loan of equipment, a bacon and egg "barm" and a drink.  If you would like to book a place you can speak to Sheila Antrobus on 0161 633 5997 or 07950 561238 or email marketing@oldhamgolfclub.com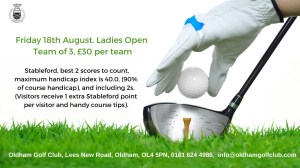 Ladies Team Open
Friday 18th August
£30 per team of three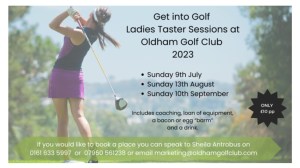 Ladies Taster Day
In 2023 our taster days cost £10 and includes coaching, loan of equipment, a bacon and egg "barm" and a drink.  If you would like to book a place you can speak to Sheila Antrobus on 0161 633 5997 or 07950 561238 or email marketing@oldhamgolfclub.com
Mixed Team Open
Sunday 17th September
£20 per pair
Ladies 9-hole Open
Friday 22nd September
£5 per person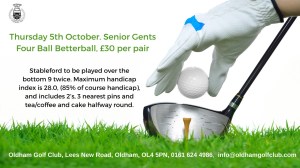 Senior (55+) Gents Open
Thursday 15th October
£30 per pair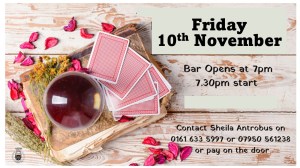 Mediumship Evening
Other details to follow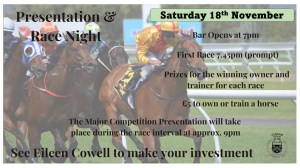 Presentation and Race Night
Other details to follow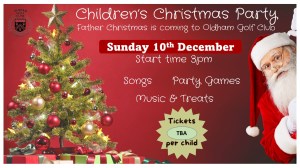 Children's Christmas Party
Other details to follow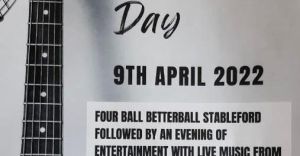 Invitation Day and Social Evening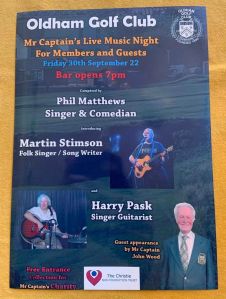 Live Music Nights