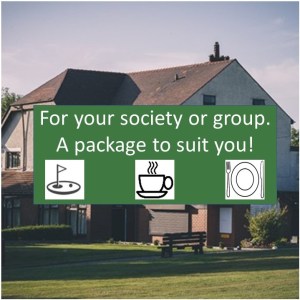 We welcome Societies to Oldham Golf Club, the 'Friendly Club', seven days a week.
Please find below the details of our weekday packages which are available Tuesday to Friday from 1st March to 31st October. We can also accommodate weekend packages on request.
The prices shown are per person and we ask that you have a minimum of 12 players. However, all packages have a degree of flexibility, and we would be more than happy to discuss alternative arrangements.
If you require any additional facilities such as nearest the pin, longest drive or a prize table then these can be organised on your behalf by prior arrangement.
Visitors are respectfully asked to observe our dress code both on and off the course. For more information please contact us.
PLATINUM
You will receive coffee and a bacon (or sausage) roll upon arrival. Followed by 9 or 18 holes in the morning. Lunch is provided which will be soup and sandwiches, followed by 18 holes in the afternoon. After your final round, we will provide your party with a two-course meal.
£35 per person
GOLD
You will receive coffee and a bacon (or sausage) roll upon arrival. Followed by 18 holes, teeing off between 10am and 12pm. After your round, we will provide your party with a two-course meal.
£30 per person
SILVER
You will receive coffee and a bacon (or sausage) roll upon arrival. Followed by 18 holes, teeing off between 10am and 12pm. After your round, we will provide soup and sandwiches. Or if you prefer to eat after your round, for £26 per person, your group can play 18 holes between 10am and 12pm followed by a two-course meal.
£26 per person
BRONZE
You will receive coffee and a bacon roll upon arrival. Followed by 18 holes, teeing off between 10am and 12pm.
£22 per person
GOLF ONLY
For a minimum of 12 players
£12 per person
Terms and Conditions apply