MEMBERS, VISITORS and GUESTS
Please also keep an eye on our Facebook page for the latest information.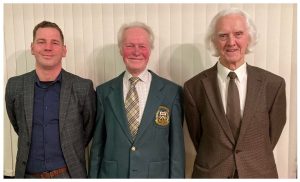 Annual General Meeting
New officers for 2022/23:-
Gents-Vice-Captain – Jonny Phillips, Captain – John Wood, President – Jim Keating. Ladies-Lady Captain Liz Johnson Lady Vice-Captain – Charlie Charlie Wade, Ladies' Secretary – Wendy Cash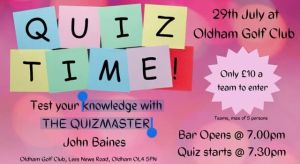 Quiz Nights
Friday 18th March and 29th July
Only £10 per team to enter. Bar opens at 7pm! For more information contact Barbara on email info@oldhamgolfclub.com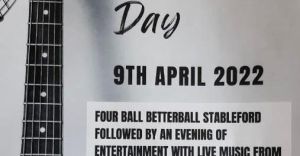 Invitation Day and Social Evening
This Saturday. Members & their guests sign up on BRS 4BBB Stableford. Food is available before or after golf. Great social in the evening to enjoy (come along even if you haven't played golf), with fab band "The Pistuns"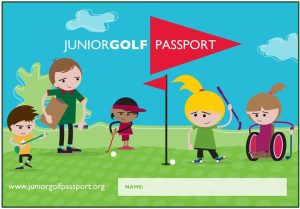 Juniors
Every Saturday from May to October.
Times vary between 12 noon and 2pm depending on the men's competition in the morning. Newcomers need to register with Sheila on 07950 561238.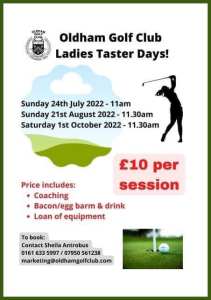 Ladies Taster Days
Start a new sport, in the great outdoors with other like-minded ladies, great fun too. All equipment provided.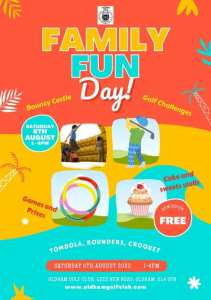 Family Fun Day
Don't forget our family fun day. Saturday 6th August lots of great activities for an action packed afternoon.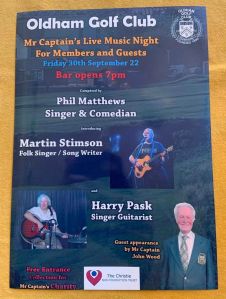 Live Music Night
Some great acts on please come and support. It will be a great night. Bar opens at 7pm. Free entry. There will be a collection for Mr. Captain's Charity, "The Christie",  during the evening. Open to all members & their guests.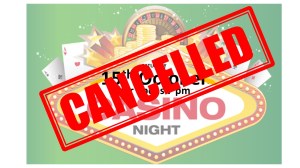 Casino Night-cancelled
Saturday 15th October Casino Night. Members & their guests all welcome. Prizes for those with most chips at the end of the evening. You are invited to our casino night on Saturday 15th October. Bar opens at 7 pm. Blackjack, roulette & dice commence 7.30. Dress smart casual. £5 entrance incl. your first 10 chips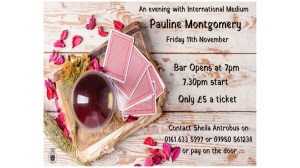 Evening of Mediumship
An evening with international medium Pauline Montgomery Friday 11th November at 7.30 pm. £5. Bar opens at 7 pm. Pay on the door or contact Sheila Antrobus on 0161 633 5997 or 07950 561238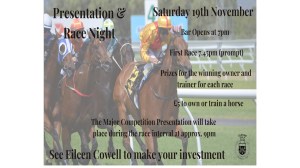 Presentation and Race Night.
Bar opens 7 pm. Just a little reminder that this year's Presentation and Race Night will be held on Saturday 19th November. The bar will be open from 7pm and the first race will be at 7.45pm.
Children's Christmas Party
There will be games, songs and, of course, a special visit from Father Christmas! Entry is only £2.50 per child. There will be a list on the noticeboard in the main lounge for you to let us know the names of your children and grandchildren.