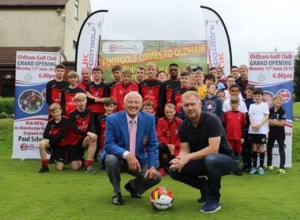 Footgolf is a fun and exciting sport played on a golf course with a football. The object of the game is to place the ball into the hole using only your feet in the lowest amount of shots possible. It combines the social aspect of golf with the country's passion for the beautiful game of football. Strength and precision are important in equal measure making it a fantastic game for every man, woman and child. Our Footgolf course has been designed to test every player's ability whether young, old or a professional footballer. It takes around 1 hour to play 9 holes of Footgolf.
Oldham Golf Club created its first footgolf course in 2016 with Paul Scholes 'kicking off' the event which had 9 local teams taking place. Since then, the sport has gone from strength to strength.
Footgolf is an all-year round sport and Oldham Golf Club often makes its course available for you to book and play on afternoons at the weekend, and on Monday afternoons during the school holidays (our golf competitions permitting).
We are currently, (early 2023), experiencing issues with the previous online booking system so please contact us if you are interested in booking Footgolf at Oldham Golf Club.
Current Price List
9 Holes Adults £8 / U16's £6
18 Holes Adults £12 / U16's £10
In 2020 not only did Oldham Golf Club host the UKFootgolf Northern Tour but they also entered a team in the local Footgolf League.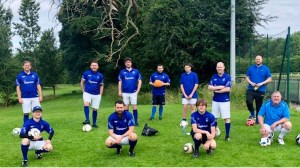 Their latest news can be seen on the OGC FootGolf Facebook page.

The FootGolf Association of England is the Official Governing Body for FootGolf in England, registered on Companies House as a not-for-profit business in 2020 and overseen by a Board of Directors.