First timers are most welcome and are invited to join us. We hope you find all the information you need here but if we can help further please contact us.
Please visit our Facebook page for the latest news about forthcoming sessions.

or visit our News and Events page on this website.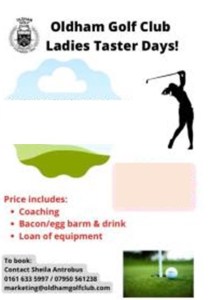 In 2021 we launched our New to Golf programme to encourage more people, especially ladies, to take up our beloved game. Golf is a great sport where you can keep improving no matter your age. Playing an outdoor sport not only keeps us fit and healthy but is good for our mental health. And so is meeting new friends or spending quality time with old ones.
We held a number of sessions, each with a great turnout. The ladies were able to try new skills and meet some of the members. We were especially lucky with the weather, considering the last session in 2021 was in November.

Following on from these sessions a number of ladies have taken advantage of our special New to Golf Academy membership (see our Membership Categories and Rates page) which provides for a member to play the course for a minimum of 12 months and to join 6 group coaching sessions from a professional.
If you would like to join our group, or know more about our New to Golf Academy, please use our Contact Us page. Alternatively you can speak to Sheila Antrobus on 0161 633 5997  or  07950 561238 or email marketing@oldhamgolfclub.com.