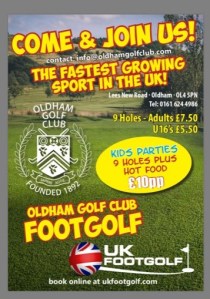 FOOTGOLF – OPEN ALL YEAR
Footgolf is a fun and exciting sport played on a golf course with a football.  The object of the game is to place the ball into the hole using only your feet in the lowest amount of shots possible.  It combines the social aspect of golf with the countries passion for the beautiful game of Football.
Strength and precision are important in equal measure making it a fantastic game for every man, woman and child.
Our Footgolf course has been designed to test every player's ability whether young, old or a professional footballer.
It takes around 1 hour to play 9 holes of Footgolf.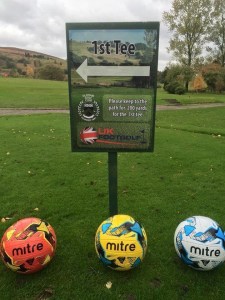 For more information or to book on line please check out > FootGolf website
2021 Price List:-
Adults 18 holes – £12 9 holes -£8
U16's 18 holes – £10 9 holes – £6
Children's parties – £10 per child includes 9 holes plus food plus drink (contact > info@oldhamgolfclub.com)
Please explore this website , contact us here > Contact Page  or call in to see us for more information.